J-Term, aka January term, is often not the first choice for students or faculty for short-term and faculty-led study abroad programs. In fact, according to IIE's Open Doors study, during the 2017-2018 academic year only 7% of all study abroad students went abroad during J-term. Summer is the number one choice for study abroad overall, with a vast majority of summer programs being considered short-term, or less than eight weeks in length.
As experts in short-term and faculty-led program development and execution, we think that its time that J-term programs got the love and attention they deserve. There are a multitude of benefits for selecting January term for your faculty-led or short-term study abroad program, but we've decided to narrow our list down to our top three reasons. Check them out below and let us know if we've convinced you to switch your program to J-Term.
1. Cost-Effective
In our experience, one of the most important variables for short-term and faculty-led programs for universities and colleges is the cost to students. With the high cost of semester-long programs, many students turn to short-term programs to fulfill their study abroad aspirations. With that being said, summer is one of the most expensive times to travel anywhere and for most of Europe and North Africa is considered to be high season. High season results in higher demand for accommodations, transportation, and cultural activities and excursions, which can quickly add up and cause the price of a summer program to tick upwards.
Traveling during low-season or "off-season" in December and January will likely result in better pricing for your group, resulting in a lower program fee for students.
2. Scheduling Benefits
J-term programs provide opportunities for many students who would otherwise be unable to study abroad due to various commitments throughout their semesters and summers. By shifting your short-term program to J-term, you allow your students the flexibility to spend their summer in other ways such as internships, summer courses, athletic commitments, or picking up a summer job.
Additionally, with fewer visitors during the low-season, you can expect smaller crowds and shorter wait times for entrances to major sites and museums. This can free up valuable time to add additional sights and academic or cultural components to your program itinerary.
3. Cooler Temperatures
Europe has been experiencing record-breaking temperatures and a number of heatwaves during the summer months in recent years. Beat the heat and plan your program for J-term instead. Although dependent on where your program goes, many southern European countries such as Italy and Spain have winter temperatures that are typically a mild 50°F during the day.
Have we convinced you to consider J-term for you faculty-led and short-term study abroad program? Contact us to start planning your program today.
Does the Length of Study Abroad Matter?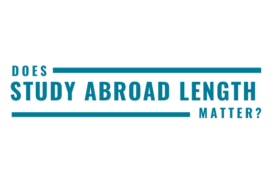 In our second report from our 2019 European Internship Study, we dive into the factor of the length of study abroad and internships abroad and how the duration abroad affects the perceived impact of students on their skill development and overall evaluation of their experience.