Study abroad was traditionally reserved for liberal arts students studying language, fine arts, history and other similar subjects, but not anymore. More and more university students studying a variety of subjects are expanding their world and participating in study abroad programs during their college years. In fact, according to NAFSA data, between the 2015-2016 academic year participation in study abroad programs grew 3.8 percent, from 313,415 students to 325,339 students.
If your business students still have their doubts about studying abroad, show them these five irrefutable reasons why they should study abroad.
1. Gain a new perspective
As we've learned, our world is becoming more and more globalized with each passing year. Although you might learn about international business and how to adapt to a ever changing global economy in the classroom, arguably the best way to learn about these topics is to experience them firsthand. Many study abroad programs today are developed for a variety of business majors and set-up internships or visits to relevant international businesses. Students are able to learn directly from international business professionals and gain a new global perspective that they can apply to their future studies and careers.
Additionally, studies have shown that studying and living abroad increases self-concept clarity. Self-concept clarity is defined as an individual's understanding of themself, people with a high self-concept clarity would agree that they have a clear sense of who they are. A person's understanding of themself helps translate to the workplace as they are able to project a consistent self-image to their co-workers, leading to a higher level of understanding amongst their colleagues and therefore results in a more efficient work environment.
2. Build applicable skills
There is a particularly important set of skills is the valuable byproduct of studying, known as transversal skills. According to the Erasmus Impact Study, 92 percent of employers are looking for applicants with transversal skills such as curiosity, problem-solving, tolerance and confidence. In that same study, 81 percent of study abroad students stated that they perceived an improvement in their transversal skills after they returned home. These types of skills are tested and enhanced through study abroad experiences and lead us into our next reason why business students should seek out an international education.
3. Decrease chances of unemployment
Students can set themselves apart from other applicants when entering the workforce by having study abroad or international experience listed on their resume. Based on the aforementioned Erasmus Impact Study, 64 percent of employers think international experience is important for recruitment, which is an huge jump from 2006 when just 37 percent of employers who felt this was an important factor for hiring. Today's job market is incredibly competitive with one of the lowest unemployment rates in the last ten years. Therefore, anything that students can do to stand out when applying for jobs is going to give them a competitive edge. In fact, study abroad students reported a 23 percent lower unemployment rate compared to those students who did not.
We found IIE's study, Gaining an Employment Edge: The Impact of Study Abroad on 21st Century Skills & Career Prospects, to be incredibly valuable in discussing the impact that study abroad had on 4,500 alumni surveyed. A business major who participated in the study stated,
"…I had a 3.9 GPA, I interviewed for five different internship positions and I couldn't land a single internship. I studied abroad for a year, I came back to the states, and the first two internships I interviewed for I got offers from both … And my whole interview … all they did was ask me about my time abroad."
The findings of this study strongly suggest that study abroad programs that clearly articulate career-focused goals help students to identify the skills they will learn abroad. Additionally, this helps students to understand how they can articulate to potential employers later on how these skills were learned and will transfer to their future work.
4. Improve chances of living and working abroad
If your students are interested in a career in international business or the possibility of living and working abroad in the future, studying abroad is highly recommended. Based on the findings of the Erasmus study, students who study abroad are 17 percent more likely to move to another country after graduation than students who don't study abroad. Students who expose themselves to an international experience while at university can also more easily envision themselves living abroad again in the future.
5. Make international connections
Similarly, studying abroad can lead to students making international connections both with business contacts and other study abroad students. Their experience abroad will allow them to reach an entirely new set of individuals who may be an integral part of their education or future career. Business students would benefit from seeking out opportunities that connect them to international organizations or offer internships throughout their time abroad. They say that a key pillar of business is about who you know, and you never know who you your students might meet while studying abroad.
International Education
How To Develop Students Into Global Citizens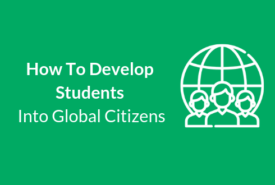 Ready or not, the future is a globalized one. How are you preparing your students for this shift?
We've laid out three actionable steps to assist you in developing your students into global citizens and set them up for future success.