Whether it's your first time planning and running a faculty-led program or your twentieth time, you're always looking to improve what your organization can offer its students. Our organization has years of experience in student travel and short-term study abroad programs and we have finetuned the industry 'best practices' for faculty-led study abroad programs.
Our top 10 list of faculty-led study abroad best practices will provide you with the practical advice you need to plan your program and elevate the student experience abroad.
1) Plan Far Enough In Advance
Faculty-led programs require a large amount of time and effort from the beginning of the proposal process through the completion of the program. In order to ensure that your program has the opportunity to be approved, recruit students and logistically organized, be mindful of your university's timelines and be planning in advance of those requirements and deadlines.
2) Choose Your Destinations Wisely
When selecting your destinations for your program it is wise to be mindful of locations that are applicable to your course content, but also are of interest to students. This will make your program more desirable for potential student participants and encourage sign-ups. Additionally, certain countries and cities can be less affordable than others. Be considerate of the costs associated with visiting more expensive destinations and how this might impact the program cost and ultimately your students.
3) Integrate Out of the Class Experiences
Learning should be at the forefront of a short-term or faculty-led study abroad program experience, but that doesn't mean it should be contained inside the four walls of a classroom. Build in sufficient learning opportunities that take place outside so that your students are gaining the full experience of studying abroad in a shorter amount of time. Typically for short term programs students are not spending more than half of the day in the classroom and the other half of the day is organized into excursions, business site visits, cultural activities or free time to explore the city.
4) Include Cultural Excursions
In order to fully experience a new culture, you must become immersed in the traditions and unique nuances that it can offer. Learning outside the classroom is not limited to experiences that are directly applicable to the course content or program focus, but also to a variety of cultural excursions. These can include things such as cooking classes, local cuisine tastings, guided tours of local neighborhoods and more.
5) Think Logistics and Experience
There are practically endless opportunities when planning a short-term study abroad program (within budgetary restrictions!), and it can be enticing to include them all in your itinerary. We would encourage against overplanning your program itinerary so that every hour is accounted for. Be sure to include free time so students can explore on their own or decompress from the new experiences and culture they're experiencing.
Additionally, it's important to understand the logistics that are involved with managing a study abroad program and a large group of students. Professors without onsite help will find themselves taking on a "program director" role, which may include confirming group travel plans, carrying cash to cover group payments, and ensuring all students are accounted for, amongst other responsibilities.
6) Seek Outside Support
To provide your students with the best experience possible, we highly recommend recruiting some level of support for your program. The capabilities and flexibility of a support service for your program will be dependent on the individual provider's policies. For us, at 4.0 Tours we have the option to include as much or as little support as you need. From program and itinerary design to organization to operate and on the ground support, our services are flexible to the individual needs of our partners.
7) Balance Cost with Inclusions
Studying abroad costs can add up quickly if you're not careful. When planning your program identify your 'must-have' inclusions and well as your wish list items. Once you've included your program must-haves, review the associated costs and then determine what extras you are able to include within your program budget.
Another option is to offer optional extras that students can sign-up for, but are not included in the program fee, in order to keep the costs down.
8) Remember Risk Management
Safety of student participants in of the utmost importance while planning and operating study abroad programs and group travel. Your program should have clearly identified risk management procedures that are outlined in advance of the program and shared with student participants. All providers used throughout the program should be fully licensed and insured. The program should be structured and designed from the beginning in a way that mitigates risks and puts student safety at the forefront.
9) Put Effort Into Recruitment
Once your program is planned and approved by your organization its time to start recruiting your student participants! Work with your study abroad office and, if you're working with one, study abroad program provider or operator to design and distribute marketing materials. Most programs have a minimum required number of participants in order to operate, so put as much effort as you can into recruitment to get your program up and running!
10) Prepare Students with Pre-Departure Materials
After your program is in run-mode, i.e. has hit the minimum required number of students, it's imperative that your participants feel prepared and ready for the journey abroad. We recommend a pre-departure orientation that goes over the program itinerary and your expectations of students while on the program. It is also recommended to provide information about spending abroad, requirements for supplemental travel insurance, and other helpful need-to-know information in advance of the trip.
Program Development
Road Map To Your Faculty-Led Program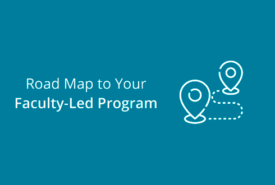 Planning your faculty-led study abroad program and don't know where to start? As experienced tour providers, we've laid out your first three, simple steps that you need to begin thinking about for your program. Download our Road Map to Your Faculty-Led Program to get started today.