The opportunity to study abroad allows students to experience the places they are learning about in the classroom, learn a new language and explore a new culture. Therefore, an international education experience offers students the ability to achieve learnings that are otherwise unavailable in a traditional course structure.
Your students already know all of this and still may not be convinced to study abroad. So how can your program offer new added value to students outside of these traditional reasons to go abroad? What added value will give them a competitive edge long after their program has ended and having students saying 'I have to study abroad'?
The Impact of Globalization
Our world grows more connected with each year as technology make it easier to interact across the globe and there is a clear shift in the way we communicate and conduct business. This globalization that we are seeing directly corresponds with the increasing number of American students taking advantage of study abroad opportunities each year.
An international education experience has become more important than ever as it provides students the chance to experience their first glimpse of our globalized world.  Therefore, the unique value that study abroad programs must offer their students is the tools and experiences to develop as global citizens.
What is a Global Citizen?
Based on a research study published in the Journal of International Education, a global citizen can be defined as
Global Citizen (n.) – someone who exemplifies the following three key dimensions:
Social responsibility (concern for others, for society at large, and for the environment),

Global awareness (understanding and appreciation of one's self in the world and of world issues), and

Civic engagement (active engagement with local, regional, national, and global community issues).
Study Abroad as a Tool for a Global Mindset
Studying abroad plays a key role in developing the next generation of global citizens. It is the responsibility of universities and colleges to provide a curriculum that instills the values of global awareness and citizenry among our future generations.
As a study abroad professional you should be constantly asking how you can further expand the thinking of your students beyond what their traditional education has provided them thus far.
Short-Term Program? No Problem.
The positive effects of study abroad are not diminished by the length of the program. In fact, short-term study abroad programs are the largest and fastest growing segment of the study abroad market and offer a greater appeal to many students. Short-term programs engage with students who may not have previously international travel experience or lack the financial backing for a more lengthy study abroad of one semester or longer.
A Little Goes a Long Way
A number of studies have concluded that spending some time abroad is a better than not spending any time abroad at all. A study of more than 6,000 alumni from 20 institutions suggested that there was no difference in global engagement between students who had studied abroad for shorter versus longer durations.
The study findings also revealed that students in short-term programs, programs of up to four weeks in length, were just as likely to be globally engaged as those who studied abroad for several months or longer. Ultimately, an experience abroad, big or small, packs a powerful impact on students developing into global citizens.
International Education
How To Develop Students Into Global Citizens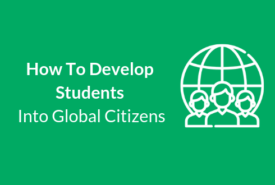 Ready or not, the future is a globalized one. How are you preparing your students for this shift?
We've laid out three actionable steps to assist you in developing your students into global citizens and set them up for future success.