Among the many reasons why students choose to study abroad, we can confidently guess that a desire to travel and see the world is at the top of the list for a majority of study abroad students. As a study abroad professional or professor working with students studying in Europe, it is valuable to leverage your unique position to incorporate supplemental travel into your program or coursework. If you're wondering how you can travel Europe with a group of students, we're sharing our top tips and industry secrets on organizing group travel within your study abroad country or to other countries within Europe or North Africa.
Plan Ahead
This one may seem obvious, but we felt obligated to include it on our list. Planning ahead is the best way to secure your ideal itinerary for group travel. You may have been told that you are unable to book certain aspects of your travel prior to a specified date, but that should not stop you from obtaining quotes and estimated costs before you are able to confirm all the details. The further in advance that you can plan your travel, the better the likelihood that there will be available for your group for accommodation, transportation, tours and site visits, and anything else you want to include.
Planning ahead also allows time for any necessary internal reviews and approvals by your program or university. Typically, in order to receive approval for your group travel your organization is going to want to see an itinerary and the associated costs that are as finalized as possible before giving you the green light.
Take Advantage of Student or Group Discounts
Fortunately, many sights and museums that you will want to visit with your students will offer a student or group discount. This can help offset any cost or budget restrictions you are facing when planning your travel. Often times student discounts will apply if all students have their student ID when traveling, otherwise, you can look into international student discount cards such as the International Student Identity Card, which they can then use during their independent travels as well to save some valuable euros.
Consider Alternative Transportation and Accommodation Options
Although we all appreciate a 4-star hotel, for student group travel you may be able to find better options that have all the necessary amenities for your students and yourself. A great option for group travel is hostels, which can provide private or shared dormitory options in top-notch locations and very comfortable amenities. Considering that you will likely only be in your accommodation to sleep and have breakfast in the morning, hostel pricing can be a huge budget-saver for your travels. Another option to consider is accommodations that may not be directly in the city center, but are close to fast and easy public transportation.
When it comes to alternative modes of transportation, private buses and trains can provide immense cost savings for your group. Additionally, with the prevalence of low-cost airlines in Europe, if you are able to book for your group far in advance you may be able to secure your tickets at unbeatable pricing. In sum, when it comes to transportation and accommodation for your group travel, don't limit your options and seek all possible alternatives that will fit your schedule and budget without compromising on experience and quality.
Don't Be Afraid To Negotiate
This tip may make you feel uncomfortable having to barter over price for your group travels, but the potential cost savings are worth it, we promise. When it comes to accommodation, transportation, group meals, and tours, there is oftentimes some wiggle room for negotiating a group rate with the provider. Whether you're able to have breakfast be included with the nightly room rate, or having unlimited beverages included with your group dinners, these seemingly small costs can add up so speaking with the provider about throwing in some added-value is a big help.
Smart business owners know that if they're willing to work with you on these small concessions that you will be more likely to come back to them for future trips and build a lasting partnership. Building relationships with partners in Europe is a great way to make planning your group travel simpler and more comfortable in the future.
Partner With a Tour Operator
If you don't have experience planning student group travel in the past, the process can seem like an endless list of to-dos on top of your existing responsibilities for your position. Even the most seasoned independent traveler may not be familiar with the process of organizing travel for a group, big or small. There are many details to consider to ensure a smooth travel experience that provides the best trip possible for you and your students.
You can find an operator or provider who can provide as much or as little support as you desire. Whether you want them to organize just transportation and accommodation, or would like for them to plan the entire travel experience, tour operators are a great option for those who want to ensure the details of the travel are handled. Additionally, many operators are able to secure better rates for your group due to their experience in the industry. If you're interested in learning more about how to select the right tour operator for your group travel, we've mapped out the 4 steps to selecting the partner that is right for you on our blog.
If you're interested in speaking with us about planning your group travel, contact us today for a complimentary consultation.
Program Development
7 Best Questions To Ask When Choosing a Tour Provider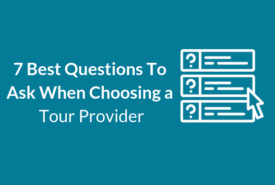 If you've decided to start planning your study abroad program and search for a tour provider but don't know the questions to ask potential providers, we've got you covered. Based on 15 years of experience, we have compiled our list of the 7 best and most necessary questions to ask during your process of selecting a tour provider for your program.