To say that the landscape of international education and study abroad has changed in the last few months would be quite a large understatement. A majority, if not all, summer short-term and faculty-led programs were canceled or adapted to a new model. We have seen a rapid reaction from universities and study abroad organizations to move their programming online and offer students the possibility for virtual experiences during the Summer, and in some cases, the Fall semester. We applaud the industry for being so agile in responding to the COVID-19 situation and offering these temporary solutions to students who's plans to study abroad were dashed due to the pandemic.
Even though these options provide opportunities for students in the short-term, the conversation must circle back to the questions of how we responsibly return to study abroad given the new normal we are facing. Specifically, how will faculty-led programs evolve and what considerations must be made when planning and operating these programs in the future? Find out the three largest considerations for universities, program providers, and other industry stakeholders in regard to faculty-led programs after COVID-19.
Planning
At this time, many universities and study abroad organizations have their attention focused on the decisions surrounding 2020 study abroad programs and the possibility of operating during the Autumn semester. Normally by the end of the academic year, study abroad offices are working to finalize their faculty-led programs for the following year; receiving requests for proposals and beginning to map out their operational calendar.
Due to this shift in priorities, we are anticipating that planning for 2021 programs will be pushed further into the summer and continue into the Fall months. This presents a challenge for international education offices as their timeline for marketing the programs to students will be stunted. Marketing faculty-led programs is a crucial step and can be a major hurdle for faculty in order to meet their program minimums for student participants. In order to help alleviate some of the stress of preparing marketing materials, study abroad office staff should lean into any outside support that will be helping to execute the program to assist with the creation of marketing materials. Also, check out our post on 'How To Market Your Program Like A Marketing Pro for other helpful tips.
Logistics
When it comes to logistics, we're talking about several crucial factors. First, what is the safest and most efficient way to transport your students during their faculty-led program? That includes flights to and from the US, as well as moving around Europe throughout the duration of their program. Will airplanes, trains, or buses be the safest and best-suited option for your faculty-led group? Second, how will all the pieces of the program fit together to adhere to local policies and precautions to stop the spread of COVID-19?
For many international education offices, to stay up to date on the most current rules and regulations for each country they will be operating programs in can be challenging, especially due to the ever-changing nature of the situation. Programs will need to maintain a level of relative flexibility until the global travel situation becomes more clear in the coming months.
Offices should always consult the official information provided by the CDC, the US State Department, the World Health Organization, and the European Union. In addition, it is important to review policies enforced by the local governments and contact US Consulate in the destination they're looking to operate their program in should they have any questions.
Risk and Crisis Management
As we saw this spring, the onset of COVID-19 required many universities, colleges, and study abroad providers to act quickly to return their students safely to America. As a result of the learnings from this experience, most organizations are reviewing their risk and crisis management protocols to ensure they are updated to reflect the current situation and a bevy of potential others that could arise as a result of the pandemic.
Be sure that your office is prepared for any situation by reviewing resources provided by NAFSA and other industry leaders. Additionally, proper vetting of any potential partners for your faculty-led programs is essential to ensure they have sufficient risk and crisis management procedures in place and mitigate risk as much as possible for your students and faculty while abroad.
---
Interested in discussing how COVID-19 will impact your faculty-led programs going forward? Contact us for a complimentary program consultation.
Program Development
Road Map To Your Faculty-Led Program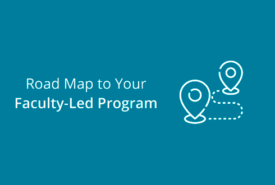 Planning your faculty-led study abroad program and don't know where to start? As experienced tour providers, we've laid out your first three, simple steps that you need to begin thinking about for your program. Download our Road Map to Your Faculty-Led Program to get started today.