Finding the right program support provider for your short-term, faculty-led, or custom study abroad program can be a challenging and exhausting process. When your organization or a faculty member is planning on starting a new program the thought of planning in on your own may leave you wondering where to start.
There are many outside program support providers to assist your program and provide you the services you will need to execute your ideal itinerary with ease. With many providers marketing the same alleged same services, it can be difficult to find the fit for your program. That's why we have compiled a list below comparing the options that can assist your short-term, faculty-led, and custom study abroad programs.
The company profiles are listed in alphabetical order.
Company Profiles
---
4.0 Tours
4.0 Tours has over 17 years of experience working in student travel across Europe and North Africa. Our support is tailor-made to the needs of the individual university, study abroad provider, or group offering a range of services from full-program design and execution to ala carte logistical support. Given our European-based team and focus on Europe and North Africa, we have unparalleled expertise in these destinations. Our organization has safely carried more than 175,000 students which have allowed us to develop strong partnerships across Europe that allow us to provide our clients with the best service and competitive group pricing, which makes their programs accessible to more students.
Pros: Expert knowledge and partnerships across Europe that keep costs down for students making your programs more accessible. Our locally based team in Europe makes executing your program with our on the ground support simple and streamlined. Option for à la carte services, we don't require the operation of a full-service program.
Cons: We are currently only operational in Europe and North Africa, so if you're looking for destinations outside of these, we're unable to provide support at this time.
API Abroad
API Abroad started in the late 1990s by four women that wanted to provide an affordable experience abroad for students and for professionals in the U.S. They also offer customized and faculty-led programs to 25 countries in Asia, Europe, Latin America, the Middle East, and Oceania.
Pros: Their portfolio of products is broad including international internship programs, teach, volunteer, and work abroad options, and international programs for high school and gap year students.
Cons: Their pro is also a potential con, as faculty-led and custom programs are not their main organizational focus. Additionally, they don't offer services in all of Europe, which can make multi-destination programs a challenge.
CISAbroad
CISAbroad, which offers direct-to-student study abroad programs, has been offering its services for faculty-led programs since 2004. Their model requires full-service programs, meaning they handle the planning and operation of the entire program while customizing the needs along with the faculty and university.
Pros: They're operational across almost all countries worldwide, which is helpful if you're looking for programs operating outside of Europe or more difficult to travel destinations.
Cons: Faculty-led and custom programs are not the main organizational focus, with their main product being studied abroad and intern abroad experiences offered directly to students. Their services are considered full-service, so they're not able to just offer à la carte services as supplemental support to your programs, such as just transportation and accommodation services. Also, they also require that there is a CISabroad on-the-ground support staff member.
EF College Study Tours
EF College Study Tours is the branch of Education First that focuses on faculty-led programs. Their main brand has been around for 50 years and they operate in 115 countries. Their programs fit into four distinct models: Discipline Focused, Intercultural-Focused, Service Learning, or Custom Designed.
Pros: They offer services in 115 countries, which is helpful if you're looking for options outside of Europe. Also, their four distinct models allow you to select the model that best fits your program.
Cons: EF College Study Tours has a large network of 50,000 employees, which could result in a less personalized experience. Also, their average per student price point tends to be higher than smaller program support providers.
SIT (School for International Training) Study Abroad
SIT Study Abroad is one of the oldest companies for experiences abroad, it was founded in 1932. For their custom and faculty-led programs, they offer their services in about 30 countries in various parts of the world.
Pros: They have an extensive background in study abroad and look to design programs that align with their company mission of understanding across cultures.
Cons: Similar to API and CISAbroad, custom and faculty-led programs are not their main focus. Additionally, they do not offer services for these types of programs in all countries within Europe or any particular continent, which makes traveling between countries and multiple destinations difficult. Additionally, their maximum group size for custom programs is 25 students, so if you have a larger group size they wouldn't be able to accommodate your program.
WorldStrides ISA Custom Programs
WorldStrides ISA Custom Programs joined forces in 2015 and began working together to offer educational custom programs in 105 countries. They utilize both the WorldStrides and ISA networks to execute these programs across the globe.
Pros: Their network is far-reaching as WorldStrides has been in operation since 1967. Additionally, they offer their customers full-service support for their custom programs.
Cons: With two organizations helping to build these programs, this could potentially increase the program cost for students. Additionally, it was not clear on their website if they are able to offer only à la carte services or if their programs are full-service only.
Why 4.0 Tours?
At 4.0 Tours, we want to provide our partners and their students with the faculty-led and custom study abroad program support that they need and that works within their budget. We believe that our expert focus in Europe and North Africa, coupled with the fact that faculty-led and customs programs are our main priority, provides a better and more personalized experience for our partners.
We're confident that we can provide your program in Europe or North Africa everything you'll need for a successful and impactful educational experience abroad.
If you're considering seeking outside support for your faculty-led or custom study abroad program read these resources:
You can also download our free resource, "7 Best Questions To Ask When Choosing a Tour Provider" below.
Ready to discuss your specific European program needs? Contact us today.
Program Development
7 Best Questions To Ask When Choosing a Tour Provider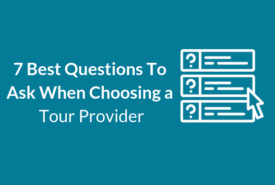 If you've decided to start planning your study abroad program and search for a tour provider but don't know the questions to ask potential providers, we've got you covered. Based on 15 years of experience, we have compiled our list of the 7 best and most necessary questions to ask during your process of selecting a tour provider for your program.