While today there is still a stigma surrounding the topic of mental health, according to the National Institute of Mental Health one in five young adults in the United States live with a mental illness. For students who deal with these mental illnesses, they will face the same challenges abroad that they do at home.
So, how can universities and study abroad programs provide support for students while abroad? We have several recommended strategies for your organization to consider implementing to address mental health in study abroad.
Encourage Student Disclosure
Study abroad programs should be open to all students and during the application process, your organization can implement measures to encourage students to disclose information pertaining to their mental health.
Communicate that disclosing their mental health information is only to allow adequate discussion and preparation before departure and will not affect their application acceptance.
Consider a required pre-departure health form for all student participants that include questions about existing or past mental health issues.
Develop A System of Support
To ensure that students feel comfortable abroad, be sure to have procedures in place to be executed by your on-the-ground staff. The education of staff on how to handle issues related to mental health is crucial to the proper treatment of students abroad.
Train faculty and staff who will be leading your study abroad programs and include specific guidelines for supporting students who are experiencing mental health issues while abroad.
Source local resources in advance of the program. These resources should be available for routine or emergency mental health issues.
Define and communicate policies regarding if and when a study abroad experience may need to be terminated due to mental health circumstances.
The goal of these recommendations is to support students with mental health conditions who want to study abroad. Throughout this process, your goal is to set students up for success so they can feel comfortable taking on an experience abroad. To put mental health processes in place at your organization, please consult a risk management or mental health professional.
International Education
How To Develop Students Into Global Citizens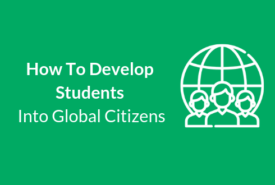 Ready or not, the future is a globalized one. How are you preparing your students for this shift?
We've laid out three actionable steps to assist you in developing your students into global citizens and set them up for future success.