An important aspect of your short-term or faculty-led study abroad program is securing accommodation for your group that will fit within your budget. Furthermore, the accommodation selection is important because it will be your students' home base throughout their program and contribute to the overall experience. Similarly, the type of accommodation you include in your program should align with the goals of the program and facilitate a comfortable environment for your students.
Accommodation options for short-term and faculty-led programs are dependent on these factors, and most importantly, fitting into your desired program cost per student. In general, there are four accommodation options for short-term study abroad programs and we're breaking them down for you here.
Hotel
First up is the hotel option for your group. Typically, hotels will be a more costly option, but prices vary by city, seasonality, location, and the hotel rating. When you partner with a tour operator they are usually able to acquire better group rates than if you were to contact the hotel directly.
Pros:
Amenities
More "luxurious" option
Typically higher quality
Cons
Overall, hotels are a great option if you want your group to be comfortable and conveniently located close by all the major sites you have on your program itinerary. For short-term or faculty-led study abroad programs that are traveling from city to city, hotels will be a convenient choice for your group. If your group will be staying in one destination for a longer period of time, there are other styles of accommodation we would recommend further on.
Hostel
While hostels have historically had a bad rep and may be associated with backpackers and less than desirable living quarters, hostels of today have truly pivoted and thus become excellent options for affordable group accommodation with a boutique hotel feel.
Pros:
Price
Communal spaces
Unique student experience
Cons
Less luxurious amenities
Multiple students sharing a room/bathroom
To sum it up, hostels are a great option for short-term and faculty-led study abroad programs. When partnering with a tour operator they are able to secure complete dorm rooms so that your students aren't sharing their room with other travelers. And don't worry, hostels also have private rooms for faculty and staff to have a more comfortable stay. Although hostels can't offer the same experience as a traditional hotel, many nicer hostels come quite close with amenities and quality.
Local University Dormitories
If your short-term study abroad program will be calling one or two destinations home for a longer period of time, renting out local university dormitories will provide your group with an authentic and immersive study abroad experience in Europe.
Pros:
European student experience
More 'homey' feel
Cons
Can be more complex to rent
Cost can be similar to a 3-star hotel
In short, local university dormitories will provide your students with a taste of attending a European university and give them a solid home base for the duration of their stay. Although dorms may be more complicated to obtain, tour operators with existing university relationships can help with securing the space. For programs that will be based in one city for more than one week, dormitory rentals should be considered for the positive aspects they offer student participants.
Apartments
Lastly, the fourth option for your faculty-led study abroad program's accommodation is renting student apartments either from a local agency or university that manages the spaces. This option works best for groups that will be staying for a longer duration in a destination before moving on to the next.
Pros:
European student experience
Kitchen space
"Homey" feel
Student independence
Cons
More difficult to ensure quality and consistency
Cost can be similar to a 3-star hotel
In sum, apartments will give your students more freedom and an immersive experience while in Europe. During January term, Maymester and summer months, universities typically will have availability in their student apartments and housing that they are willing to rent to external groups. This can be a more time-consuming process, but with the help of experienced partners, it's an excellent solution for your group.
If you are in need of more recommendations or guidance for your group accommodation for your short-term or faculty-led program in Europe, contact us and we would be glad to provide you with
Program Development
Road Map To Your Faculty-Led Program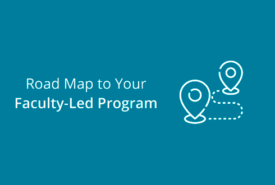 Planning your faculty-led study abroad program and don't know where to start? As experienced tour providers, we've laid out your first three, simple steps that you need to begin thinking about for your program. Download our Road Map to Your Faculty-Led Program to get started today.