If you're planning your program in Europe and want to visit destinations that are overlooked or less 'touristy', we understand and we've got you covered. We've compiled a list of 5 destinations in Europe that you may not have considered before, but are just as incredible as the more frequented cities.
1. Budapest, Hungary
Although Budapest is becoming a more popular destination amongst Europeans, it is still a less common destination in Europe for American tourists. With a storied history, Budapest has connections dating back to the Roman Empire. The city as seen today was formed through the joining of Buda, Pest and Old Buda, in 1873. The story of the city does not end there, as Hungary was involved in World War II during which time Budapest was severely damaged.
Can't Miss Sights
2. Split, Croatia
If you're looking to go to Croatia, check out Split instead of Dubrovnik. The city, situated on the Dalmatian coast, is home to the UNESCO World Heritage Site Diocletian's Palace. A tumultuous history led Split to once be held during various periods by the Roman Empire, Venice, Austria, and France. Part of the former Yugoslavia, Split became an official city of Croatia in 1992.
Can't Miss Sights
3. Bologna, Italy
The capital of the Italian region of Emilia-Romagna, Bologna, is often passed up for the more famous cities of Florence or Venice. Not to discredit how amazing Florence or Venice are, but Bologna is a must. This incredible region is home to parmigiano-reggiano and prosciutto. The history of this city dates back 3,000 years and has been touched by the Greeks, Phoencians, Etruscans, Gauls, Romans, Byzantines, Visigoths, and Lombards, so you could say there is a bit of a history to modern-day Bologna.
Can't Miss Sights
4. Valencia, Spain
The capital of both the province and autonomous community of Valencia, this less-popular Spanish city is located on the Mediterranean coast. Once a flourishing Roman colony, this city saw many rulers throughout its history and many of these influences can still be seen today.
Can't Miss Sights
5. Salzburg, Austria
Smaller and less popular than Vienna, Salzburg is just as incredible and you should know about it. The city is home to world-famous composer Wolfgang Amadeus Mozart, born there in 1756. Like many European cities, Salzburg was not exempt from the impacts WWII and was heavily damaged during the conflicts, with over 50 percent of residences destroyed. You might recognize the city from its fame brought on by The Sound of Music, which was filmed here in the 1960s.
Can't Miss Sights
International Education
How To Develop Students Into Global Citizens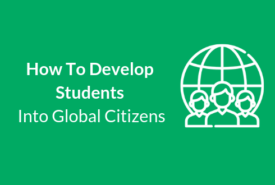 Ready or not, the future is a globalized one. How are you preparing your students for this shift?
We've laid out three actionable steps to assist you in developing your students into global citizens and set them up for future success.