Europe for many years has been a hot spot for students studying abroad, particularly those studying business and with an interest in international business. With 44 countries to pick from each with their own unique cultures, traditions, and historical backgrounds, there are sure to be many destinations that fit your program needs. Europe is known for the varied and prestigious educational systems and diverse availability of programs. That's why we have compiled five of the best cities for a business program, whether its short-term study abroad or longer, these cities won't disappoint.
1) Prague, Czech Republic
Although the Czech Republic might not be the most known country to host business students, it is one of the best options for business studies of all areas of focus. The Czech Republic was the first former Eastern Bloc state to acquire the status of a developed economy. Being home to politics, culture, and a bustling economy in central Europe is only one of the many benefits of the country, and why Prague, in particular, makes for an excellent choice for students. The city has also become a popular destination for many tourists and young students for its beautiful sights, affordable cost of living, and delicious foods.
Pros: The city has affordable and accessible prices that can be adapted to everyone's budget. The city offers many low-cost business programs and activities.
Cons: Prague is well known for its extremely cold weather during winter months. If studying there during that time, be prepared to pack a warm coat!
2) Copenhagen, Denmark
According to the world economic forum, Denmark is one of the most economically competitive countries in the world. It is also rated to be one of the happiest countries worldwide. The country's wealth supports an extensive welfare system, a generous social security system as well as high employment. Students make up almost 10% of the population of Copenhagen, which is a popular destination for study abroad students. The young and modern city makes the business scenario serious and worth the while. Copenhagen is also one of the top 10 visited cities in Europe because of the culture and sights, with endless ways to get around including the most popular, bikes. The city filled with happy and hardworking people is sure to welcome you with open arms.
Pros: Copenhagen is the happiest city in the world. You are sure to find somewhere to fit in and enjoy your stay, while learning about their successful businesses.
Cons: The cost of living in Denmark, especially Copenhagen is slightly elevated, seeing that a coffee can cost upwards of $6 at any regular café.
3) Berlin, Germany
Berlin is not only a modern city of art but also business and technology. The rich history and culture the city holds it is one of the most renowned cities in Europe. The city is formed in various startup businesses. Although the country's official language is German, most people speak English because of the strong international influence and community they have. This opens the option to even more business programs you might enjoy or jobs you may apply for in the future. Berlin is one of the most modern cities in Europe making transportation fast, easy, and low cost.
Pros: Berlin has fairly reasonable prices and a mixture of various cultures and lifestyles. In Berlin, you may find stores and businesses of all kinds of interesting concepts.
Cons: You might have a bit of a culture shock with so many different people from around the world, this is nothing to be too concerned about.
4) Amsterdam, The Netherlands
Another city to add to the list that has several ways to commute, but a majority of the population chose to bike, is Amsterdam. Amsterdam is well known for their fast advancement and development. It is because of this that various large companies such as Netflix, Uber and Tesla, now have headquarters in the city. Many new and expanding companies have started to work in Amsterdam, allowing young students to participate in internships to gain experience in the business industry firsthand. Classes in Amsterdam are well known for allowing flexible learning systems and small size lectures.
Pros: Whether it's the gorgeous canal views or the bustling business scene, Amsterdam is sure to be the perfect place to study abroad.
Cons: The liberal city might not suit the more peaceful and tranquil students.
5) London, England
We would be remiss to not include London on our list for business students who want to study abroad and dip their toes into the pond of international business. Studying business in London is the perfect place for students to study business. According to the EDCI, they rank number one in Europe for startups and have developed a distinct creative cluster around the "Silicon Roundabout" in London. London offers some of the best business programs in the world with various internationally recognized universities, a great UK education system, and scholarship opportunities. London is a culturally diverse city with many opportunities for young hardworking students.
Pros: London has great attractions and is home to many powerful European companies.
Cons: London has a high cost of living. Inevitably there is no way to get around the high rents and expensive lunches.
---
Ready to start planning your business program or want to learn more? Contact us today to get started.
International Education
How To Develop Students Into Global Citizens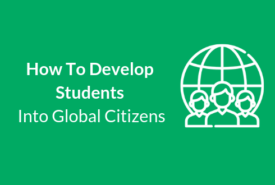 Ready or not, the future is a globalized one. How are you preparing your students for this shift?
We've laid out three actionable steps to assist you in developing your students into global citizens and set them up for future success.